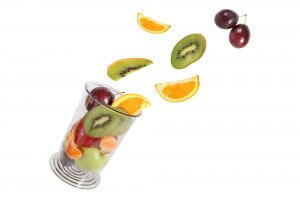 Should you have a Vitamix 5200 in your kitchen?
That's a question we often get from folks looking to buy a new blender. The Vitamix 5200 is the model that made Vitamix a household name.
Sure, it's a great blender. After all, Vitamix is the Bentley brand of blenders. Is it worth the $435 investment, especially when you can get great blenders for under $100?
Read on to find out whether this blender is the right one for you.
What Are You Using a Blender For?
Before you spend money on your next blender, it helps to think about what you're going to use it for.
Are you in the market for a new blender because you're trying out smoothies, and your current blender is leaving your smoothie a little too chunky?
Did your old blender just give up and go to blender heaven?
There are a lot of things to consider when buying a new blender.
You'll want to check to see how much space you have in your kitchen and what your budget is. You should think about how many people are you making meals & smoothies for.
If it's just you at home and you're making smoothies, a powerful smaller blender like the Ninja Professional Blender & Nutri Ninja Cups (BL660) would be just fine.
A bigger blender like the Vitamix 5200 is a great option if you do a lot of cooking at home, or if you're blending for 3-4 people at a time.
What Can You Do with a Vitamix?
The reason why the Vitamix brand is so popular is that it can blend almost anything. That makes it versatile enough to go beyond smoothies. Here are just some of the things you can make:
Soups
Dough
Dips
Cake Batter
Blended drinks
Nut Butters
Nut and oat flours
Ice cream
You can get as creative as you want in the kitchen with your Vitamix. The options as to what you can make are limitless.
Can It Replace My Juicer?
This is another common question we get about Vitamix blenders. It really depends on what you tend to juice. It's great for juicing whole foods like tomatoes, bananas, apples, leafy greens, pineapple, and mangoes.
When it comes to other vegetables that are more fibrous, stick to a juicer. That would include carrots, beets, and potatoes.
Main Features of the Vitamix 5200
This Vitamix model is in the C-series of models, which is considered to be the 'classic' series.
The 5200 comes with a 64-ounce container. Yes, that's a full gallon of smoothies. It's also has a high-powered motor base, a Getting Started Guide, and DVD.
The Vitamix 5200 Specs
The design features a radial cooling fan and thermal protection system to prevent overheating.
Weighs 10.5 pounds
This model takes up a fair amount of counter space. The dimensions measure 20.5 x 8.75 x 7.25 inches when the 64-ounce container is attached.
This model has a 1560-Watt motor.
There are a bunch of goodies that come with this model. You get a startup DVD and
This model comes with a 7-year warranty. That's a full warranty that covers parts, performance, labor and two-way shipping.
The Good
The major positive thing of the Vitamix 5200 is the sheer power of the appliance. Its power allows it to pulverize ingredients, including small seeds.
The design is sleek and looks great in any kitchen. You can tell that this is a blender meant to last for 30 years or more.
Another plus is that the company stand by its product with a 7-year warranty.
The Bad
The Vitamix 5200 is a hefty investment compared to most blenders on the market. Yes, it's powerful and one of the most powerful home-use blenders on the market.
There are some drawbacks that come with this blender. And if you're going to shell out over $400, you better know what they are.
For starters, the blender isn't dishwasher safe. That's the most surprising part of this device. The best way to clean it is to put soap and water in the container and blend it on high speed.
Occasionally, you'll notice a light film build up inside the plastic container. To clean it, it's recommended that you pour a cup of vinegar into the container, and fill the rest of the container with warm water. Let it sit overnight. Then, pour out the water and wipe down the container with a warm cloth.
Another downside is that the product does overheat, even though it has a cooling fan. When it does overheat, the thermal protection system kicks in and shuts down the device.
The Vitamix 5200 is a high maintenance appliance, meaning that you can't set it and forget it. There are multiple switches to use and you have to monitor it on high speed to make sure it doesn't overheat. Otherwise, it'll shut off.
Finally, if you're sensitive to noise, this probably isn't the blender for you. For all of that power, there's a lot of noise generated by it.
The Bottom Line
The Vitamix 5200 is powerful enough to blend just about anything in the kitchen. It's a great brand, and the blender is built to last for years.
Is it something that you should have in your kitchen? It is if you plan on cooking for a lot of people often and you can see yourself making smoothies every day. It's great if you need to crush ice often.
Not to mention, you have the room for it in your kitchen.
Otherwise, you'll be better off with another blender.
Compare to Other Blenders
A Vitamix blender is one of the most well-known brands on the market. As we discovered here, there are many great things about it, and a few drawbacks, too.
We know that when you're in the market for a new blender, the options can be overwhelming.
We have complete reviews on the best blender models, which we are confident will fill any need you have at home.
Check out our latest reviews today!