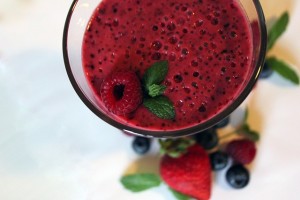 A great tasting and healthy fruit smoothie seems to be a huge trend right now and it does not appear to be slowing down anytime soon! And why would it? They taste great, are very nutritious and there are many different recipes that you can choose from – even by just blending up what ingredients you happen to have in your fridge and pantry. The other reason is that you don't need a lot to make one – just a good blender! Whether you are making green smoothies, fruit and vegetable blends, yogurt drinks, etc, you want something that can handle whatever you throw at it.
Now the only problem with this is figuring out which one to choose to blend up your concoctions? So many options and variables – especially things like budget in mind and the types of smoothies you plan on making and enjoying. Because of this, I wanted to create a resource right here that categorizes what I believe to be the best options to choose for a specific price range or type. I hope it helps you choose! Let's get right to it:
However, if you want to skip over all this and just find out my main model recommendation, I will reveal it right now!
My Number One Choice! The Magic Bullet Pro 900
Click Here to Learn More About It's Features And Price
I love the Nutribullet and I use it daily to make nutritional smoothies. It was recommended in a green beverage recipe book I have, but I no longer refer to that publication because there are more and better recipes in the Nutribullet Life Changing Recipes book that was included with it. It is strongly recommended by me!
The Nutribullet by Magic Bullet Professional 900 Series provides all the nutritional benefits of the first Nutribullet and more. With its 900-watt motor and increased capacity, the Nutribullet Pro goes even further to pulverize the toughest of fixings, including blackberry seeds, fresh turmeric root, wheat grass, kale and much more.
If this one is not exactly what you are looking for, take a look at the following options:
About the following choices:
When choosing the top blenders for this job, there were a number of different things that I considered when choosing the best for each price category. The following aspects are what was looked at during this process:
Ability to crush ice.
How it handles frozen fruit and vegetables.
How well it blends large quantities of ingredients.
Ease of use and good speed control.
Build quality.
How easy it is to maintain and clean.
Price.
Amazon product reviews.
Power it provides for the price.
Warranty and how much the manufacture stands behind the product.
Note: I only looked at home models and did not consider commercial options. All of these aspects depend on price as well so I made sure to be subjective here since it would be obvious that, for example, a $200 blender would handle ice better than a $40 one.
---
For people on a budget, just click on the option below to jump to the choices in that budget:
Hopefully the choices above will cover all my visitor's specific needs but if now, feel free to contact me if you need more help.
$
Hamilton Beach Smoothie Smart
One of the main points about this blender is how well it is able to make a smoothie. It even has an automatic button for just this purpose that means that you just throw in the ingredients and press the button. It is also able to do just about any other blender task you put in it, however, I have to mention that if you do load it up with a lot of ice, it can struggle. But for the price, it is a great value. Click here for more information.
Hamilton Beach 53510 MultiBlend Blender
This blender is a bit cheaper and to be honest, it could be built a little better. However, for the price, it is great if you are on a budget and don't have a lot to spend. It seems to handle making drinks with no issues. I probably wouldn't overload it took much but it will do the job at a great price. Click here for more information.
$$
All-Clad KZ750D Immersion Blender
If you are looking for something with a bit more flexibility, a small hand immersion type may be right for you. I personally like the convenience and easy clean up that these provide which allows me to just throw everything in my shaker bottle, whiz it up and done! Then just clean it up and turn around and make a nice soup too! Click here for more information.
Cuisinart SPB-600 SmartPower Deluxe
What I like most about this blender is the shape – short and wide. Because of this, it seems to do a good job at making sure everything gets nicely pulverized without having to stop and shake or manually stir things down to the blades. This makes it also quite easy to clean too. Click here for more information.
$$$
Ninja Kitchen System 1100
This is an excellent value for the money since you are getting multiple attachments and jars. So while making a refreshing fruit smoothie is one of the main functions, you can also use it for making lots of other recipes as well. Click here for more information.
$$$$
Breville Hemisphere Control Blender
Once you get into this price range, you really start to see what kind of excellent functionality you can get. This one has a really cool blade design that actually helps pull down the ingredients down to the bottom so that are processed efficiently without having to stop and start. Click here for more information.
Cuisinart CBT-1000 PowerEdge 1000 Watt
Here is another great example of a mid range quality blender. It chews up ice with no issues and has a smoothie setting that makes an awesome smoothie no matter what you put in it. The only con that I can mention about this is that it can be a bit tricky to take apart and clean – but once you have done it a time or two, you should have no problem. Click here for more information.
$$$$$
Ninja Ultima BL810 blender
Now we are getting into something a bit more special – a super blender! Powerful motor, attractive design and just awesome. I believe that if this is something you are going to use everyday, then this blender or the other two below should be your choice if you have the money to afford one. Click here for more information.
Vitamix 5200 and Vitamix 7500
For a bit (well a bit more than a bit!) more money than the above Ninja, you can upgrade to what I consider to be the king of blenders – Vitamix – capable of blending anything. This has no shortage of features, yet it is still easy to use and clean. Of course, this can hadle more than just frozen fruit drinks too – nut butters, soups, flours and everything in between. Click here for more information – Vitamix 5200 | Vitamix 7500.
So this makes up my choices by price range for the top blenders for smoothies! Hopefully one of these is perfect for you.
Save