Sometimes you may be in an area where you want to blend something up but do not have access to electricity – camping perhaps? In these cases, choosing the best battery powered blender is a great option. And the one we choose? The Coleman Rechargeable Portable Blender. Take a look at this review: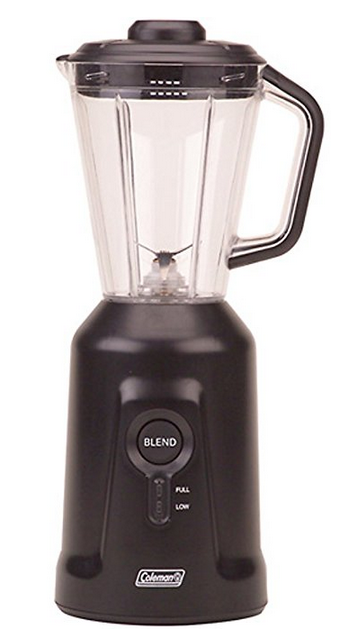 Blend mixed smoothies, drinks, or soups right where you are! Whether at the picnic or the campsite, or at the family BBQ, the Coleman Rechargeable Portable Blender is what you need. The 4 models of the Rechargeable Portable Blender designed by Coleman are designed to meet your every need — home, marine, camping and tailgating (road trip). Below is a Coleman Rechargeable Portable Blender review highlighting main benefits and features:
It operates on a high-RPM, powerful motor that blends ingredients finely and chops ice quickly. Each model comes with a big push- ON/OFF switch button and level indicator for the battery. The package includes a 12-volt and a 120-volt charger stored conveniently in the blender base for vehicle or at home recharging.
Key Benefits Include:
Powerful, durable, and easy-to-use
Pitcher has pour spout& measurement markings
48-oz. pitcher locks securely into the base for secure use and transporting
Powered by two rechargeable 6V/4.5AH batteries
LED battery level indicator
Capable of making a full pitcher of favorite frozen drinks in less than 1 minute (about 30 seconds)
Can blend 20-30 pitchers on a single full battery charge
12V/120V chargers
1-year manufacturer's warranty
With this Portable Blender from Coleman, you will easily and conveniently make all manner of frozen beverages as well as other types of blended foods at any location. You will become the star of the next tailgating event or the next outdoor party with this well-constructed appliance. It will serve your event well as it can make between 20 and 30 cycles for each battery charge. More importantly, this battery-powered Coleman blender comes with 12V and 120V chargers and also has two rechargeable batteries (6V, 4.5 AH). The blender features a LED battery level indicator that informs you of how much power you got after each use.
Easy To Use
With a convenient ON/OFF control push-button, the Coleman Rechargeable Portable Blender is very easy to use. Features on the lid include 3 convenient settings: Open/Close/Strain. For stability during use or when on transit, the pitcher securely locks into the blender's base. The polycarbonate pitcher, stainless-steel blades, and the blender's molded black finish are long-lasting and durable.
The Portable Blender is capable of blending between 20 and 30 pitchers when on a single full battery charge. Conveniently, 2-green LEDs will clearly display the battery level informing you when you need to have your portable blender recharged.
The 48-oz pitcher lid features three pour settings: open, closed, and strained, as well as pitcher measurement lines. Simply press the ON/OFF switch button and your smoothie, drink or other beverage will be ready in around 30 seconds.
Easy To Clean & Durable
All Portable Blender models from Coleman come with a non-skid rubber base for blender stability. The lid and pitcher are hand-washable for stress-free cleanup anytime and anywhere. A simple wipe using a wet cloth will keep the blender base clean.
The blender's polycarbonate pitcher and stainless steel blades are very durable. The Coleman Portable Blender may be considered a bit heavy largely because of the large battery, but for that, you also get decent lasting power.
Conclusion
If you love outdoor camping but don't want to be kept away from your favorite frozen smoothies and drinks, Coleman has developed the most fitting solution. You can take the Coleman Rechargeable Portable Blender just about anywhere you wish. With this portable blender, you can make in under a minute, a 48-ounce pitcher of your favorite frozen drinks!