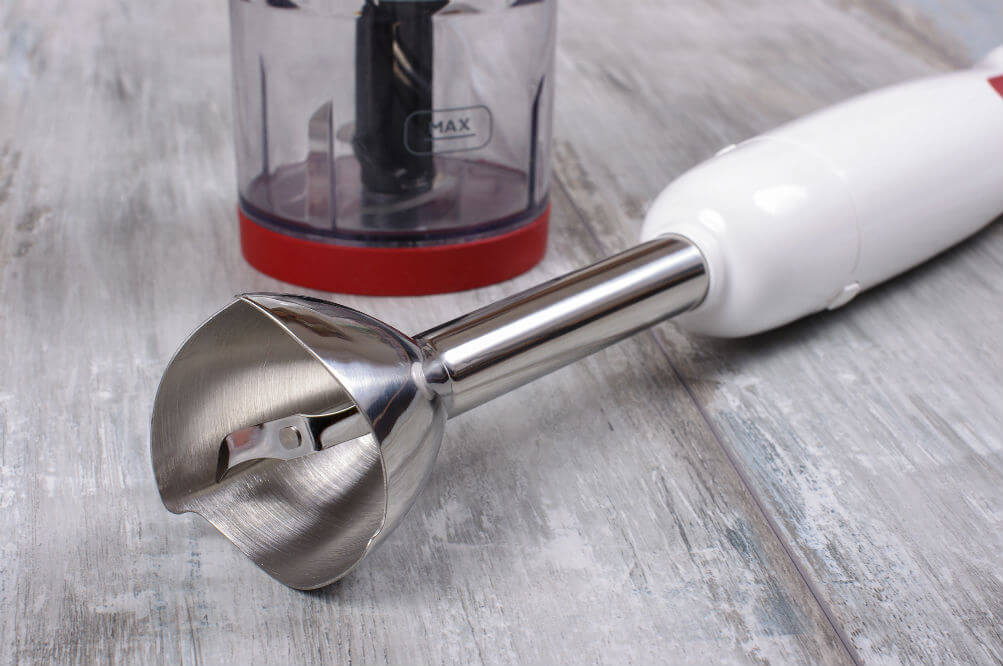 With today's technology, innovations of even the simplest of things such as blenders are much easier to comprehend than things staying the way they are for a long time. Blender manufacturers found a way to make blending easier and more convenient, even in large quantities than what we do a few years back, which is already easier than how we do blending a few decades back! Nowadays, most kitchens are incomplete without the best stick blender around.
What Is a Stick Blender?
A stick blender or what is also called an immersion blender or hand blender is a short pole which has blades attached to it, unlike the typical standard blender which has a container with blades inside. It allows the user to blend and mix foods right into a bowl or a pot on a stove, eliminating the need to transfer the content to another container just for blending or mixing.
It is lightweight and easy to use. It also does not take up too much space when stored and is portable, meaning you can blend or mix food anywhere in the house or even outside the house! A stick blender is also compact that you can pack it in your bag and bring it with you when going out of town.
Most stick blenders can also be used for either hot or cold mixtures, although not all can be used for crushing ice.
Can't get enough of this tool? You are in luck! In this post, we will talk about the popular stick blenders on the market today. We'll learn about their features and discuss their pros and cons to help you choose which is the best among the best.
Best Stick Blender: Top Three Picks for 2018
Like any other kitchen appliance, choosing the right stick blender can be very tricky and time-consuming especially when you are faced with so many options that is why we have narrowed down the options for you.
Mueller Austria Ultra Stick Multipurpose Hand Blender
The Mueller Austria Ultra Stick Multipurpose Hand Blender measures 15.2 x 4.9 x 2.8 inches and weighs 2.15 pounds. It can be used to create delicious dishes like pesto, salsa, batter, pancake, tomato and cheese sauce, smoothies, apple butter, whipped cream, cakes, and soups, among others. You can also use this in making cocktails or even just chopping ingredients.
Features:
It has a sophisticated design with a non-slip grip for easy maneuverability and safe as well.
It runs in a full copper motor which makes it durable and long-lasting.
It has a blending arm that is removable and a fixed blade that locks into the motor.
It has an S-shaped, stainless steel blade which helps blend ingredients quickly.
Pros:
Compact
Takes up less storage space
Can fit just about anywhere
Versatile; can be used for any recipe or meal
Fast; can blend contents within seconds or few minutes
Easy to use and can be maneuvered using one hand
Easy to clean and is dishwasher-safe
Comfortable grip
Con:
Blade may not withstand bulky and heavy ingredients
Betty Crocker Hand Held Immersion Blender
The Betty Crocker Hand Held Immersion Blender measures 4 x 15.4 x 4 inches and weighs 2.2 pounds. It is ideal for a variety of mixing and blending task. This tool allows you to chop, mince, and blend sauces and creamy soups in the pot or prepare a cold smoothie with so much ease and without the need to transfer ingredients from one container to another.
Features:
It is made up of high-quality stainless steel material.
It has a pulse control with two speed selections.
It has a 400-watt power capacity.
It comes with an 18/10 stainless steel blade.
It comes with a 600-millimeter mixing beaker.
It has a detachable blending shaft that is dishwasher-safe.
Pros:
Stylish, contemporary design
Comfortable handles for smooth maneuvering
Easy control switch
Easy to clean and maintain and is dishwasher safe
Lightweight and compact
Cons:
Not designed for crushing ice
Can be noisy when used for an extended period
Does not come with parts or attachments that can add more function
Aicok Immersion 4-in-1 Stick Blender
The Aicok Immersion 4-in-1 Stick Blender measures 10.2 x 5.7 x 10.3 inches and weighs 4.1 pounds. It is perfect for preparing sauces, dips, soups, smoothies, baby foods, mayonnaise, and milkshakes, among others.
Features:
It runs on 120 voltage.
It has a maximum power of 350 watts.
It is made up of BPA-free plastic and stainless steel materials.
It has adjustable speed strengths with two strength switches.
It comes with four durable and sharp blades made up of high-quality and rust-resistant stainless steel.
It comes with an ergonomic handle for a firm grip and better control.
It has easy to clean and dishwasher-safe blender foot and attachments.
Pros:
500 ml food processor
800 ml beaker
Whisk attachments
Six speed levels, two of which are turbo settings
Highly resistant to rust even when often used in liquids
Easy to clean and dishwasher-safe blender foot and attachments
BPA-free materials
FDA-certified
Con:
Plastic material can easily break when used in heavy or large ingredients
The Verdict
After a thorough discussion of these three products' features, pros, and cons, which can we now consider as the best stick blender?
Our two cents is that, if you want a feature-rich option with additional functions and attachments, then the Aicok Immersion Stick Blender is the best option since it already comes with parts that you can use for other purposes; you won't have to go through the hassle of searching for these items and purchasing them separately. It also has six adjustable controls which give you the power to manage or adjust the speed as necessary or as you prefer.
However, if budget is a major concern, then you should go with the Betty Crocker Hand Held Immersion Blender since it gets that job done but at almost half the cost of the other two items. The only downside to this is that it does not come with any bonus attachments or additional functions that the Aicok Immersion Stick Blender and Mueller Austria Ultra Stick Multipurpose Hand Blender offer.