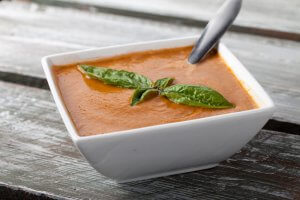 Fall is soup season. With the plethora of root vegetables and herbs being harvested this time of year, there's no better way to take advantage of the season than by throwing all of your favorite ingredients into a soup blender.
Most commercially available blenders can take steamed veggies, stock, and spices, blend them together, and give you fresh hot soup in minutes. If you're looking for the best soup blender to give you a hot concoction look no further.
Below are some suggestions on what to look for in a perfect soup blender.
Versatility
A versatile blender should be able to grind nuts, make smoothies and pull through as a great soup blender. If your blender suffers to make one of these as well as the other, it's time to go shopping.
The Vitamix 5200 and the Blendtec Designer 725 are neck and neck in terms of versatility. Retailing for around $200 cheaper, the Vitamix blender creates smooth soups and great smoothies from any ingredients with the greatest of ease. It creates delicious dressings and mayonnaise at its lowest speed. At the highest speed, expect to be able to make smooth nut milks and soups.
The Blendtec Designer 725 brings ample competition with intuitive settings and controls that simplify your work in the kitchen. For a cheaper option with just as much power and versatility, try the Blendtec Wildside. For a slightly lower price tag, you get everything you expect from the Blendtec brand at a 5-cup size.
Budget
The search for the perfect soup blender can quickly lead to sticker shock for the uninitiated. The highest-end Blendtec blender will cost a cool $1,500. While you might value your kitchen creations, that's likely to be out of reach for most readers.
If you're not looking for a soup blender that does all the work, but maybe one to give you a helping hand in the kitchen, you've got plenty of options. The Cuisinart Food Chopper will make quick work of your ingredients and grind nuts down to the perfect size for your soups.
The Cuisinart Food Chopper will make quick work of your ingredients and grind nuts down to the perfect size for your soups. Retailing for about $60, it fits within most appliance budgets. Its low profile means that it won't take over your kitchen counter and won't need to be packed away between uses.
The Ninja Professional blender is something of a kid sister to the Blendtec Designer series. With a similar look and feel, it has a pretty good power output for the price. It's easy to clean and can be that versatile kitchen helper to get you through the holidays or a Sunday afternoon prep for a week's worth of soup.
Durability
If big chunky root veggies and hunks of meat are your ideal soup ingredients, you need something with a whole lot of power. The great thing about using a strong blender is that running at highest speed for a few minutes, you should be able to get your ingredients to near boiling temperatures from just the friction of the blades.
For your safety, higher-end Vitamix and Blendtec blenders both include vents to let steam and pressure out from your soup mix.
Blendtec blenders get high ratings for their ability to puree soup. Even factory-refurbished versions come with a warranty, with the highest priced models including a warranty up to seven years.
For Professionals Only
A professional chef looks for not only the qualities listed above, but they consider how their equipment holds up under pressure. Build quality is what makes the difference between "good enough" and "great". A great professional blender can handle anything you throw at it, is easy to detach and clean, then start all over again.
If your house is the go-to for family gatherings, you need quality. You need something that can make pesto, put together a soup and then be ready for your sister's famous margaritas all within an hour. A blender with high-quality blades and a warranty to back it up could make all the difference.
The KitchenAid Diamond Blender offers a classic design with a die-cast metal base and a durable glass pitcher. The vortex of this blender means that no chunk will escape the movement of the blades.
If you've got a big enough budget, the Vitamix Aspire Blender might be the answer that you're looking for. This is the one you'll find in the back of restaurants all over the world. This kitchen-quality blender can jump from task to task, is easy to clean, and be your go-to soup blender for the entirety of the fall and winter soup season.
Blending For One
Since the introduction of the Magic Bullet a few years ago, personal blending has taken over the appliance scene. Many new blenders come with 12-20 ounce containers for blending on the go. If you're hoping to throw something together for tomorrow or make a quick smoothie in the morning, a personal blender is the way to go. As a bonus, many models offer drinking lids that turn the blender compartment into a travel mug.
Ninja's Nutri Ninja Pro personal blender is a great "bang for your buck" blender. Retailing for under $100, it has a 3 cup capacity and comes with a one year warranty. Travel lids fit snugly and easily so that you can grab this on your way out the door in the morning without worrying about spills. It's easy to clean with a solid power output.
If you've got the budget for it, try the Vitamix S30 blender. At a much steeper price than the Nutri Ninja, this blender has more control and versatility to be used as a soup blender and drink maker. It comes with a 20-ounce travel cup and a 40-ounce blending container. As Vitamix has become the gold standard for blenders, you won't be disappointed.
Have Fun With Your Soup Blender
Once you find the perfect soup blender, you can start to have fun. Try adventurous ingredients and mix flavors together. Choosing a quality blender that you can depend on means you should be able to throw anything you want into it. If you run out of ideas or are looking for inspiration with your new blender, look through our recipe recommendations to spark your imagination.