As the title suggests, this is the first  recipe I ever tried out.  I pretty much base most variations around this one. Its a great place to start if you're new to making green smoothies with a Vitamix or Blendtec.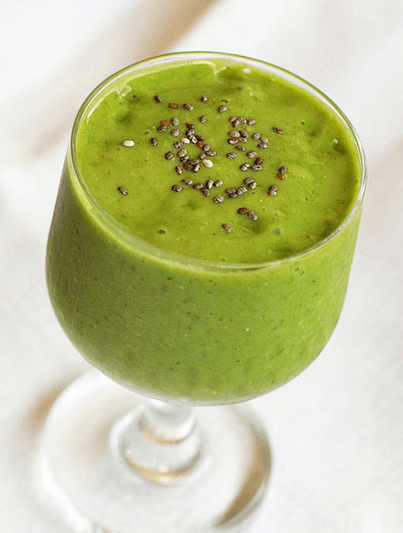 I buy most of my ingredients at my local grocery store (here in NYC I use Fairway) and sometimes I'll get things at Trader Joe's (like their bags of kale). I don't buy anything organic, in part because of cost and in part because I'm really not sure how important it is to do so—I may change my approach as more research comes out.
Here's the basic recipe:
3 cups or so of Kale.  OK I never measure the kale, but if it's in the stalk Ill just rip off about two handfuls worth, and if its loose—like the Trader Joe's bags—Ill fill to about halfway up the Vitamix pitcher (is there a better name for this thing?).
1/2 of a large cucumber. I generally just chop it right in the pitcher like—I watched Joe Rogan do this so why not emulate him?
Lime (or lemon) juice. Ideally you would have fresh lemons or limes around, but I find this too much work, so I buy lime juice concentrate at the grocery store. Seems to be pretty similar, is cheap, and far easier.
Frozen Raspberries. I try to use these sparingly (maybe an 1/8 of a cup (?)), since they are, of course, fruit, but it does add a nice flavor so experiment with them.
Some water. I'd guess about ¼ of a cup, just to make sure the smoothie isn't too thick. You really have to play around with this. One thing about green smoothies v. juicing is that you typically end up with A LOT of volume when blending. I usually fill a pint glass, drink some down, then fill it back up. If you add too much water, you may have enough to fill two pint glasses. Anyways, not the worst problem to have. And you can always share.
4-6 ice cubes. I don't always add these, but I do think it makes smoothies a little easier to drink.If I have the ingredients around, I'll also add:
That's really it.
Fresh ginger. About a 1/4-1/2 inch piece. Just rinse and toss in. Adds a nice spice, and ginger has really good detoxification properties.
Cayenne. Obviously adds a bit of a kick. Honestly don't like adding this with ginger, since they are a little overpowering together.
Beets. There are a ton of benefits to consuming beets. Unfortunately, they make any smoothie taste realllllly earthy. Not terrible, but not something I love. Also, they make sort of a mess and can stain your clothes. You can see I put beets in the smoothie pictured here.
Frozen spinach. I always have frozen spinach around so in a pinch I'll toss some in, either in addition to kale or instead of it.
Things I've thought about adding but haven't yet:
Protein powder. I buy Gold Standard Double Chocolate (Optimum Nutrition 100% Whey Gold Standard, Double Rich Chocolate 2 Pound), which I love, but I'm not sure it will really work well with a green smoothie. Update: I actually just bought this (Body Fortress Whey Protein Powder, Chocolate, 31.2 Ounces (Pack of 2)
) protein powder on Amazon since it was cheaper and had more protein/scoop than Gold Standard. Well see how it is.
MCT oil. Again, I use this already (NOW Foods Mct 100% Oil, 32-Fluid Ounces), but since I generally put it in my coffee in the morning, I haven't had the desire to add it to a smoothie.
Fish oil. I currently take fish oil in pill form (Kirkland Signature Omega-3 Fish Oil Concentrate, 400 Softgels, 1000 mg Fish Oil with 30% Omega-3s (300 mg)), so this wouldn't necessarily work for me. But if you use something like this (Barleans Organic Oils Omega Swirl Fish Oil, Lemon Zest, 16-Ounce Bottle), it could actually add a nice flavor.
I like to put it all together with what I consider to be the top green smoothie blender.