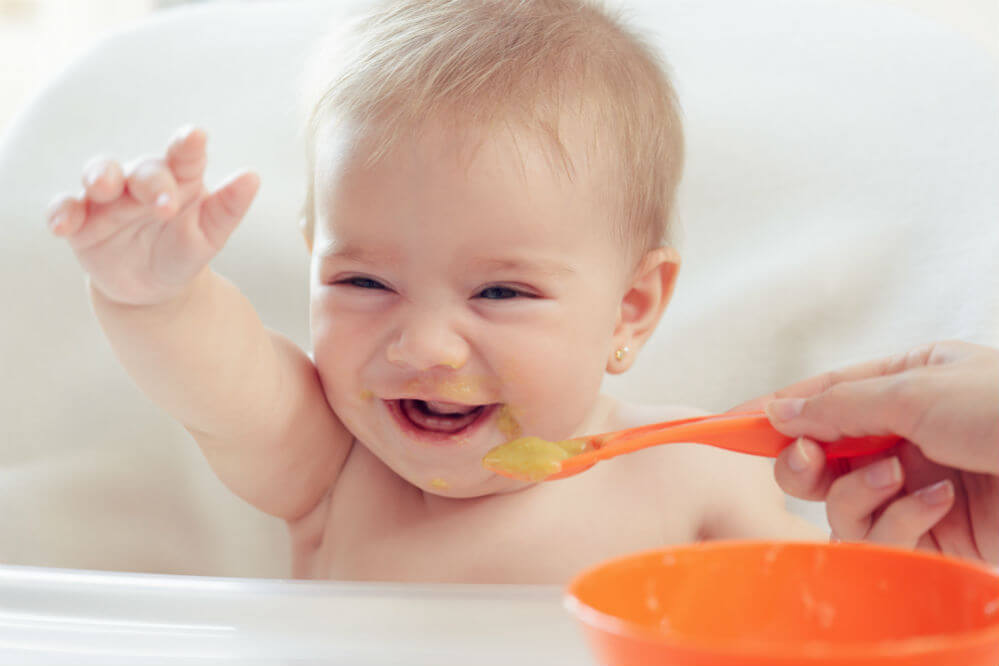 A baby's first solid food should always be one that would tickle their taste buds and would usher them into the world of grown-up flavors and textures. Branded baby food is available on the market but nothing beats knowing what you are feeding your baby, especially if it came from the best blender for baby food that you can find.
Baby food blenders are just like your typical home blender, except that they are much smaller and come with several attachments and containers to help you store baby food in batches. This handy kitchen device can, of course, be used for other types of food, much like how you would use a blender but extra care should be given especially if you would be using the same blender for your baby's food.
Benefits of Making Your Own Baby Food
Using the best blender for baby food can give you a ton of benefits without the usual drawback that you are bound to get if you prefer store-bought ones. Here are some of the benefits of making your own baby food:
All natural and better-quality ingredients
Pack with more nutrients
Tastes better
Starts your child on a healthy path
More ways to mix and match
Makes the transition to table food easier and faster
Eco-friendly
Three Blenders for Baby's Food
Tenergy Immersion Blender, 200W Multi-Speed Food Mixer Set
Features
Multi-function Kitchen Gadget
This blender comes with several attachments that let it make anything from baby food to smoothies, vegetable mix, and even fluffy scrambled eggs. These attachments are detachable and can be used for more than the usual food that you use blenders for.
The Tenergy Blender comes packed with a powerful 200-watt motor that can chop, whisk and blend any food, including tough vegetables and hard ice.
This immersion blender comes with a stepless speed control that lets you adjust the power being delivered by its motor, to make it just right for any food that you have in its container. It is called stepless because all you need to do is twist the knob to adjust the speed.
The blades and other metal attachments of this blender are made of food-grade, high-strength stainless steel that needs no sharpening. These attachments are also resistant to corrosion while the plastic parts and attachments are also food-grade and BPA-free.
For an immersion blender, the Tenergy blender has a longer reach than most, which makes stirring hot soup much easier with lesser chances of getting into an accident.
Pros
Dishwasher-safe
Feels durable
Well-made
Very handy around the kitchen
Gives the perfect consistency
Convenient to use and adjust
Cons
A little bulky
The motor is a little noisy.
Hamilton Beach 36533 Bebe Baby Food Maker
Features
The Hamilton Beach Baby Food Maker is easy to clean with all detachable parts being dishwasher-safe. Just rinse any debris off and place them on the top rack of your dishwasher.
This baby food maker can do more than just blend and puree food for your baby. It can chop and shred, and it can even steam food directly to make harder vegetables easy to digest and the soup more consistent.
This baby food maker from Hamilton Beach comes with 10 food containers that let you store and reheat baby food when making batches. These containers can even be placed inside the freezer to keep baby food longer; just pop them in the microwave to reheat.
The plastic materials used for manufacturing this baby food maker is BPA-free, making it safe to store food with. This quality also lets you use it for reheating and freezing.
Pros
Easy to use
Convenient to clean
Takes up minimal space
Versatile
Sized just right
Purees food down to the smallest detail
Multi-functional design
Cons
The water reservoir is tricky to clean
There is a burnt oil-like smell after every use
Lots of pieces needed to work
Magic Bullet Baby Bullet Baby Care System
Features
The Baby Bullet Blender is made to make nutritional food within minutes and in big batches. Included in the package are six storage cups that you can set the date on using a dial, as well as the resealable lid and a tip-proof tray.
The Magic Bullet Baby Bullet Blender uses non-toxic, BPA-free plastic as its base material, making it safe to use for you and your baby's food. This material is also resistant to warping due to warm temperatures and can withstand a daily trip to the dishwasher.
The storage cups that comes with this blender has a date dial system that lets you track when you made what you will store, to ensure that everything that your baby eats is fresh and safe.
An easy-pop batch tray also comes with this blender, and it lets you store purees in its silicone-based body and freeze until you are ready to feed them to your baby. It can hold up to 12 ounces of puree all in all.
Pros
Perfect gift for new moms
Ideal for making baby food
Storage containers are efficient and functional
Date dials make the best buddies for forgetful moms
Feels solid and durable
Easy to clean and dishwasher-safe
Convenient to use
Space saving and easy to store
Recipe book and manual are handy
Cons
Burnt-oil smell after each use
It tends to overheat and shut off.
The containers can become brittle.
Best Blender for Baby Food
These are the three of the best blenders on the market right now and all of them have great features that make each one of them a great addition to any home kitchen. However, moving into the real criteria, the best blender for making baby food is the Magic Bullet Baby Bullet Baby Care System.
Not only is it BPA-free, easy to use and very convenient to clean, it also has a good 200-Watt motor that lets you blend any kind of food for your baby. The way it saves space and how attractive the overall design is earning nods of approval as well.
What sets it apart from the other two blenders though is the containers that come along with it. They are attractive and designed specifically for babies. The materials used are also similar to what you would use for your baby's other nutritional needs.
All-in-all, baby food makers are not just about the power that they have in their motor and the number of functions that they have. It's all about making great-tasting food for your baby, with extra fine consistency while helping you track when they were made for safety purposes.