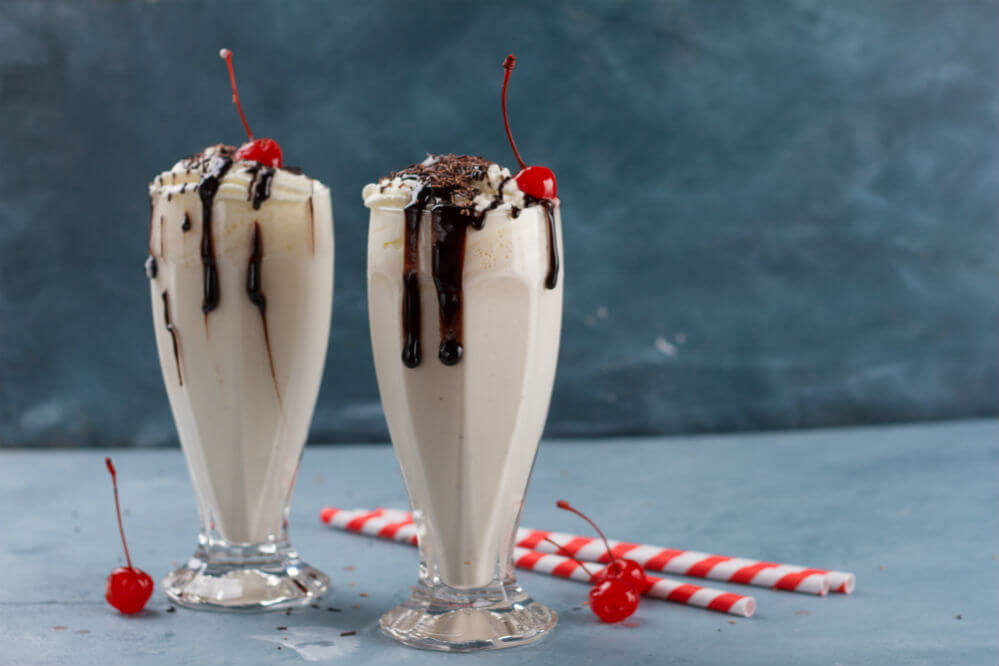 No other dairy-based beverage can be more iconic than a milkshake as it had become part of modern history, especially when it became a staple around movie houses and soda fountains. This drink is made even better if it came from the best blender for milkshakes. Traditionally though, milkshakes were made by hand, stirring scoops of vanilla or chocolate cream into a tall glass of full-cream milk until it is well mixed.
The modern era has brought about the best blender for milkshakes which has electric motors that ensure consistency, both in taste and texture. Even the ingredients have evolved as well, with some fast-food joints opting for premade milk mix instead of full-cream milk to save on money. One thing is still consistent across the years though, that is how to make the perfect milkshake.
How to Make the Best Milkshake?
The perfect milkshake should only use a couple of ingredients, milk and ice cream, then use a blender to mix everything up. Additional ingredients like berries and other fruits can be used to bring the flavor profile of your milkshake to the next level.
Some professional chefs would freeze milk and use it in place of the ice cream and then use natural flavors coming from fruits to make their versions of this classic beverage. Others would make it a little bit "adult-y" and add a bit liquor to the mix, which would actually produce the first iteration of the milkshake during the 1800s, which was a little bit like eggnog.
Lining Up the Best Milkshake Blenders
Using full-cream milk and vanilla ice cream means you can just mix it by hand or use a blender to bring all the flavors together. For a much more consistent and hygienic milkshake, you can use any of the three blenders that are made for such a purpose.
Oster BLSTPB-WC4-FFP MyBlend Personal Blender
Features
The Oster Personal Blender comes equipped with four stainless steel blades that are run by a 250-watt motor for the optimal blending power, giving you smooth and chunk-free shakes every time.
This personal blender comes with two BPA-free sports bottles with 20-ounce capacity; each with a spill-proof lid, snap-on closures and carry clips so that you can take your juice anywhere you want.
The Tritan sports bottles are made of dual layers that help reduce condensation, and it also helps in keeping your drinks cold, 30% longer than regular bottles.
The powerful motor of the Oster Personal Blender would only require you to push a button for it to begin blending your milkshakes to the consistency of your liking.
Pros
Powerful motor
Durable stainless-steel blades
Convenient to use
Does not take up a lot of space
Good for everyday use
Effectively blends ice
Quick and easy
Does not leak
The lid stays closed while running
Drinks stay cold
Cons
Sports bottles can be bigger
Can be a little lumpy
SKG Multifunctional Commercial-Grade Blender with LCD Display Panel
Features
The SKG Multifunctional Blender is equipped with a powerful 1800-watt motor that is designed to chop and blend any ingredient that you would place on the pitcher.
This blender comes with eight pre-set functions that are designed to make things convenient and eliminate the guesswork to provide you with consistent blends each time.
Stainless Steel Cross-knife Blades
The SKG Multifunctional Blender comes equipped with the next-generation of blender blades that are made of high-quality stainless steel and when combined with the powerful motor, can chop through anything.
This powerful blender comes with a PC jar, as well as a spill-proof BPA-free Tritan bottle that comes with a vented lid.
The PC Jar is easy to clean; just run the clean program together with some hot water and dish soap, and you're done.
Pros
Convenient to use
The LCD screen is handy.
It's reasonably light.
The base is stable when its running.
Jar and blades are easy to clean.
The eight preset options are easy to use.
Professional-grade
Breaks down even the smallest of chunks
Con
The motor can be louder than expected when running.
Hamilton Beach 65120 Pro All-Metal Mixer
Features
The Hamilton Beach 65120 Pro All-Metal Mixer comes with a commercial-grade spindle that has two agitators for that consistent mix each time.
A cup rest is attached to the mixer body, and it supports the mixing cup, so you don't have to hold it while it mixes your milkshake.
The Hamilton Beach 65120 is built with a durable die-cast aluminum housing and the 28 oz. mixing cup is made of stainless steel.
The spindle and agitators are run by a two-speed precision motor that can be tilted back so the mixing cup can be removed easily.
Pros
Makes old-fashioned milkshakes
Easy to use
Works well
Blends ingredients well
Cons
Feels a bit flimsy
Heavy and takes too much space
Cleaning can take time
Cup can spill while running
Tilting head does not lock
Best Blender for Milkshakes
Great milkshakes are made with the best blenders, especially one that can provide the best consistency, both in taste and texture. With this in mind, the Oster Personal Blender is the definitely the best of the three when it comes to producing consistent results. It helps that that the sports bottles that it comes with are dual-layered which keeps all that goodness cold and fresh for a longer period.
The 250-watt motor is silent, yet powerful enough to make one serving at a time, multiple times in a day. It helps that the BPA-free bottles are used as the mixing medium, which saves on cleaning time and makes it convenient for you to bring along your milkshake while going to the yard.
The best milkshakes of old may be the ones that are made by hand, but the way you mix your milkshake is not what matters. What matters is how fresh your ingredients are, and how well their flavor profiles can complement each other, elevating the overall taste.