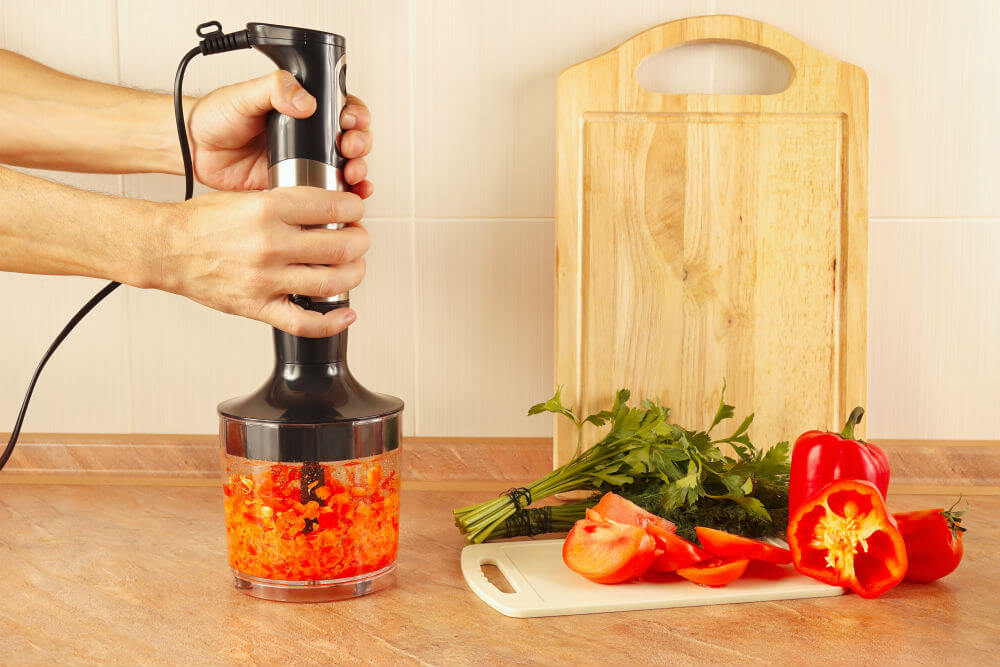 The hand blender, sometimes called immersion blender, wand blender or stick blender, was invented by Roger Perrinjaquet in Switzerland and it was first called the "bamix." On March 6, 1950, he patented this idea, and since the 1960's, this tool has been used in professional kitchens in Europe.
The best hand blender is oftentimes used to puree food and blend ingredients in the container where they are being prepared.
The hand blender is basically a stick that has blades at the end of it. Through the years, different types of hand blenders were manufactured for home and commercial use.
Large commercial stick blenders are sometimes called "boat motors" which was popularized by Alton Brown and Emeril Legasse. On the other hand, home hand blenders are corded or cordless, and their motor power ranges from 120 to 600 watts.
In addition, home hand blenders frequently come with different attachments such as a whisk and a chopper. Moreover, some of the most popular brands that make good hand blenders are KitchenAid, KOIOS, and Hamilton Beach.
Each of these hand blenders is going to be discussed in detail below to help you decide if you are shopping for this appliance. 
KOIOS Powerful 500-4-in-1 Hand Blender
Features
The KOIOS hand blender is a 4-in-1 stick blender that will allow you to whisk, blend, brush, crush, and chop any type of food; moreover, it features six speeds plus a turbo control.
This hand blender allows you to change accessories in one click; furthermore, some of the accessories included are the whisk attachment, 500 ml chopper, 600 ml beaker, and blending shaft. In addition, it has a low-noise 500-watt motor and stainless steel S-shaped blade.
Finally, this hand blender has an ergonomic handle, and it is dishwasher safe including all its accessories.
Pros
It comes with a two-year warranty.
The hand blender comes with a user manual and a cookbook.
This KOIOS hand blender is a versatile appliance.
It is user-friendly and easy to set up.
The motor is powerful.
It has different modes, so it allows you to make different types of food.
The hand blender is easy to clean.
The plastic attachments are BPA-free.
It can be used for hot liquids too. 
Cons
This hand blender may be a bit heavy for some users. 
It comes in one color only. 
Hamilton Beach 59765 2 Speed Hand Blender
Features
The Hamilton Beach hand blender allows you to blend, chop, whip, and puree directly in your bowl, glass or cooking pan. In addition, its dimensions in inches are 14.75 H x 3 W x 2.75 D and its motor's power is 225 watts.
Aside from the blending wand, it also comes with a chopping bowl and a stainless steel whisk. Moreover, its attachments are all dishwasher safe. It also features a non-slip, ergonomic handle.
Finally, this hand blender has two speeds and comes with a five-foot cord so you can easily maneuver the appliance.
Pros
This hand blender is easy to clean.
It is user-friendly.
It allows you to blend directly into the container.
It has a compact design.
It has a low-noise motor.
The hand blender does not feel cheap.
It does not overheat.
This handle is versatile.
The cord is long enough.
Cons
This hand blender may be heavy to some users.
It only has two speeds.
The hand blender is not powerful enough for heavy-duty use. 
KitchenAid KHB2351CU 3-Speed Hand Blender
Features
This KitchenAid hand blender has three variable speeds. It can also puree, blend, crush, chop, and whip any type of food. This hand blender has a soft-grip handle and a removable eight-inch blending arm with a fixed S-blade, and it comes with a whisk attachment.
In addition, it comes with a two and a half-cup chopper attachment with graduated measurement markings and a three-cup BPA-free blending jar.
All of the attachments are top-rack dishwasher safe. This whole appliance set is made of durable plastic and stainless steel. Finally, it features a five-feet round power cord and a quiet, powerful motor.
Pros
It comes with a one-year hassle-free replacement warranty.
It's easy to assemble and disassemble.
This hand blender has a quiet but powerful motor.
The hand blender is made of heavy-duty metal.
It does not get hot even when used for long periods.
It is easy to clean.
It comes with a storage bag.
The hand blender was made by a trusted company.
It is easy to operate.
Its handle is comfortable.
They provide customer service.
Cons
The food processor attachment and blending jar may be small to some users.
The top of the chopper can be difficult to remove.
The hand blender may be heavy to some users.
Some of its settings may too powerful for some users.
The power button is hard to push. 
Best Hand Blender: The Verdict
All three blenders have good quality and are extremely versatile; you can use these blenders to chop, puree, whisk, chop and blend almost all type of food. All three of them are all very easy to clean, and all of their attachments are dishwasher safe. Furthermore, they are all easy to assemble and user-friendly.
However, when it comes to heavy-duty use, the KitchenAid is the best hand blender because it has a powerful motor and also, KitchenAid is a trusted brand when it comes to kitchen appliances. Nevertheless, the other two hand blenders are good for home use.
On the other hand, if you are looking for a hand blender that has more speed control and has a longer warranty period, the KOIOS hand blender is the best choice among the three.
Finally, the KOIOS and the KitchenAid hand blenders are the best options among them when it comes to attachments because, even though all three of them come with a chopper and a whisk, the two stand out for the reason that they also come with a blending jar.